Home
›
Loudspeakers
Interest Check: Royd Revelation RR3 with Integrated stands
Hi all
I can't really believe I'm doing this...
My RR3s may be available soon. They are uniquely talented monitor speakers capable of driving large rooms. They need proper grunt to do it well - don't buy them if you don't have the power (83dB/1W/1M). Crossover point is 4.5khz. They are rated for amps of 40W-100W and sounded rather fine on the end of 80-90 watts of NVA statement amplifier. Proper class A (10 watts+) seem to be the way forward to my ears. I have integrated stands, which in turn are bonded to heavy granite slabs for stability - they are too precious to get knocked over! (these can probably be removed if needed). These speakers are seriously heavy as they are lined with steel plate. They previosuly suffered from reduced tweeter output (this can happen due to a very minimal crossover), so both tweeters were replaced with matching equivalent NOS units (these had almost identical specs but were smoother and slightly more extended than the older units).
Specs indicate the RR3 is capable of 20khz to 20hz, but don't say how many dBs down they are at that point. To be fair, the bass is stupendously low and powerful for a speaker of this size, and is of better quality than that of many larger speakers. They manage to cast a stereo image wider than you have ever heard and disappear like you would not believe, giving a unique window into your music. They aren't all about detail, they are wonderful with texture and timbre, are wickedly fast and completely transparent allowing whatever is driving them to do it's thing. They are monitors, more akin to headphones in some ways given the insight they offer.
More specs and a few pictures of these actual speakers on the Royd Audio site, here.

These retailed at £1,300 when new (2001 onwards). I have only seen four pairs available for sale before, I don't think many were made. People probably couldn't get their head around a range with a small floorstander as base model, a larger 2.5 way then a really expensive flagship 2 way monitor!
I think they are worth £800 all day long, but I can't imagine they have appreciated that far. I was hoping for something in the region of £600-650, for which I can deliver within a sensible distance of Eastbourne (up to three hours in any direction except south). Shipping could be available, but without stands. If you want the whole lot and you're abroad, we can talk. This is a chance to own the last and best speakers designed by Joe Ackroyd.
In a letter he wrote and gave to owners of RR3s he implied these were the pinnacle of his work.
Please register any serious interest here or by PM, I will likely setup a sale thread in the next week or two.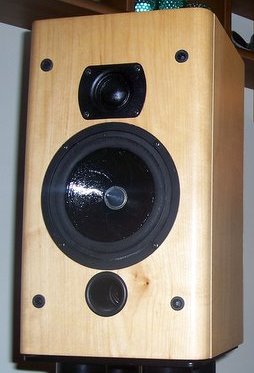 I will get around to some better pictures soon, if there is demand.