Home
›
Other hi-fi gear
DC filter
For a good while now a lot of my kit has had large transformers.
All, except the TOCA SECA have intermitently hummed when plugged directly into the mains.
An AG1500 sorted the hum, and had many positive effects on the sound of the system, but seemed to compress the bass somewhat when used with the TOCA.
Hence my move to Sovereign's MTBPS balanced power supply. This sounds great, and keeps the transformers upstream quiet.
One slight problem is that the MTBPS itself has the largest power supply of all (3KVA with a 5KVA core). Most of the time (98%) it is utterly silent. But, occasionally, especially in the day it can rev up a bit. Usually just for a few moments then dies away. It is inaudible if I'm listening to music at anything but the quietest levels.
I decided to look into a cheap way of addressing this. It seemed like "DC on the mains" may be the problem. Some commercially available products are out there...
This one: "The Excelsior DC Blocker" costs £595.
I didn't want to spend that much.
On my second sweep I came across this from LC Audio Technology:
About £35 including delivery from Denmark.
Clicky
. A nice man called Anders was very helpful.
It arrived today.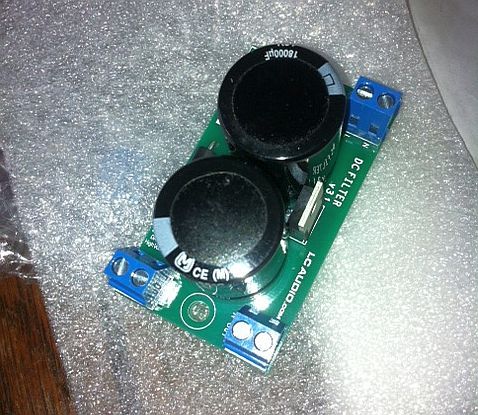 So I connected it up to a bog standard IEC lead...
Encased it inside a temporary insulation box...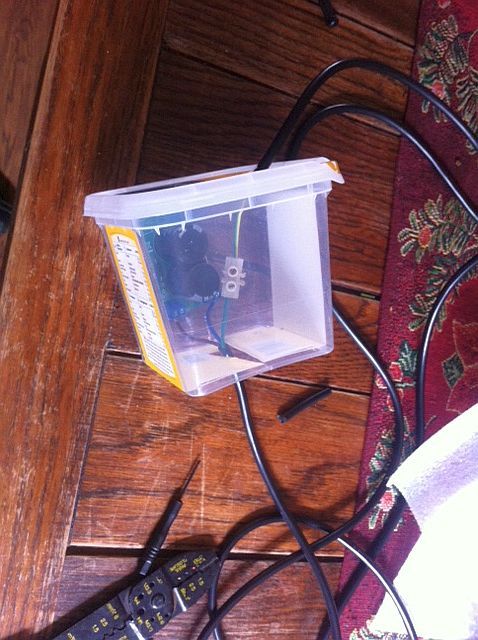 And plugged it in...
Now, the first thing I always look for whenever I do any electronic engineering is no deaths. So far, this has been achieved.
Secondly I hope that no kit will explode. Again, so far so good...(Please note the lights are on on the TFS and the TOCA!
>- )
If things work as hoped then that is a bonus. So far, the LC Audio Technology DC filter is doing exactly what it claimed it would do. There has been not a hum nor a buzz nor a rev from the MTBPS. =D>
Finally, it is possible that the bass coming out of the system is a just a tiny bit more...scary? Possibly more impactful and deep? I was expecting the DC filter to effect only the occasional humming of the MTBPS. I don't really understand how it could change the system sound beyond it... So I may be imagining it. :-? It certainly hasn't effected the sound adversely. I was a little nervous that this might happen as the rating of the DC filter is at the limit of what the TOCA and TFS are drawing, and obviously well below the MTBPS. I don't know how important these things are with passive components. Maybe it either works or it blows up. (So far no smoke.)
In any event, I'm delighted with it. I love making stuff when no-one gets injured.
Next step is to buy a more secure and nice looking box to encase the thing in.