2nd Systems
What are you keeping safe from the attic...?
With the Easter sunshine turned on today, I'm in the conservatory (ooo, get me) with my 2nd system.
I was complaining about the sound the other week, but raising the speakers up a bit (with bricks) has made a useful difference to the overblown and uncouth bass that was previously causing me to feel annoyance and disappointment. I suspect they could do with a bit more raising; I know Suzy found the Wharfdales sounded better when lifted up a bit. I have my 10 inch stands that she used in the shed. Maybe I'll get them out at some point... Although bricks seem more funky for a 2nd system. B-)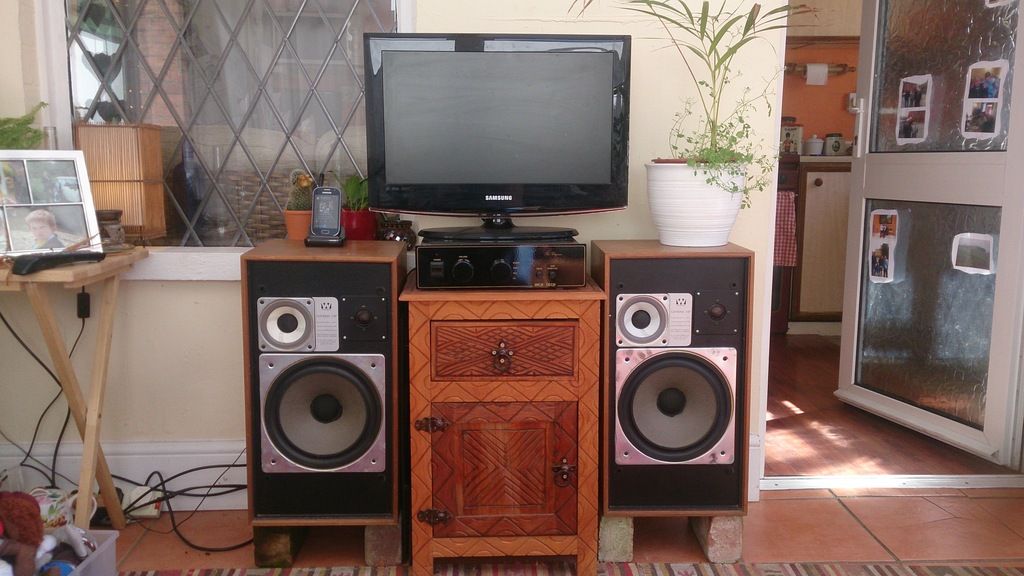 Anyway, I'm enjoying listening to this. Obviously not the widest soundstage I've ever achieved, but there's something about a 2nd system that means I feel liberated from an OCD pressure to achieve optimal SQ! Hard to go very wrong with a Claymore.
(And thanks again to Colin for the digital front end too (it's taking a wifi MP3 stream from the media PC via JRiver's Android ap 'Gizmo'). :-D )