Home
›
Amplifiers
A valve in the system
Well, kind of...
I've been working out the best, and cheapest, way that I can create a bass guitar setup for a forthcoming gig. I haven't really played bass in anger for a long time. So, I don't have the necessary equipment to hand. Or at least, that's what I thought.
For one reason or another I can't use for the gig the acoustic bass guitars I have for my own enjoyment. Also, the small practice amp that lurked in my attic is too crap for gigging...
But, I remembered that I had a cheap and nasty electric precission bass copy in the attic next to the practice amp. Also, what about that huge bass producing lump that sits in the corner of my lounge augmenting the hifi sound - the massive bass cab with the 18 inch Goodmans bass speaker powered by the BK Electronics BSBP 275 subwoofer plate amp... Could that act as a decent bass amp for the precision bass...?
Well turns out it can. And, do a rather splendid job of it. But, only with the assistance of another attic find, the Art Studio V3 tube valve pre-amp, that I had completely and utterly forgotten about.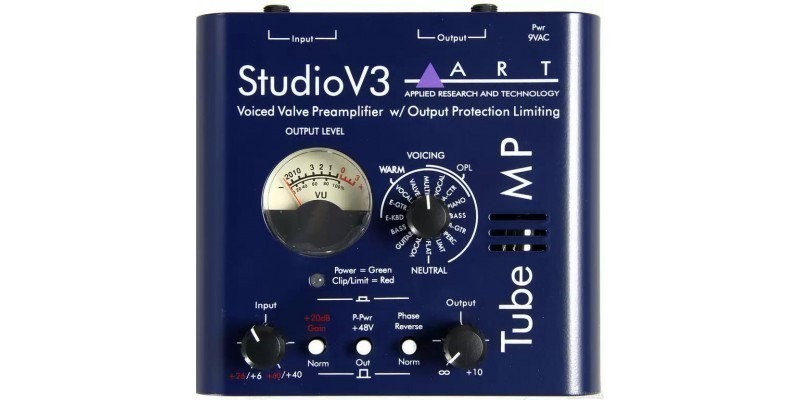 (A pre-amp is necessary here as my homemade BK Electronics / Goodmans subwoofer works off a line level input of course (normally from the output of my soundcard, which it shares (via a simple splitter) with my stereo power amp). And the passive pick-up in my electric bass is obviously not line-level.)
My recollection is that when I bought the V3 it was used as a vocal mic preamp for a band I was working with a few years ago. I don't think I ever used it as a bass pre-. One if it's selling points at the time was that it was an affordable way of pre-amping in home studios. The rotary dial in the centre kicks-in various suggested voicings for different instruments that one might want to record in a home studio setting. (I was hoping that my bass would sound best as a "piano" or something unexpected, but no, the "Bass" positions turned out to be the preferable ones.)
I am hugely pleased with the resulting sound. It's probably the deepest, most powerful bass sound I've ever achieved with a guitar. I used to have a big Laney amp setup, with 4x8 drivers and that didn't sound like this.
I've set the frequency cut-off on the subwoofer amp as high as it will go, so it's not all 20Hz rumble! :-D I did try switching out the cut-off altogether, but this just exposed the crapness of my guitar. But, with the mid-frequency hollowness eliminated it sounds like a pretty respectable instrument. Deep and smooth. I'm quite happy. I just to get some practice in now!
Finally, the excercise has made me reflect on how for me getting hifi "right" is all about how well I can get me system to get out of the way and act as a clear stage for recordings; the less "voicing" it contributes to the sound, the better. But, in the case of getting a desireable sound out of my fingers on the bass strings, almost the opposite has been the case.