New speaker build
Got going this week with the latest project.
I've been impressed with the performance of the compression driver in the Tannoy 295/8. I wanted to progress that favourable impression into something meaningful.
My current favourite speaker manufacture, Monacor, currently make a range of Tannoy-style dual concentric drivers. The SP-3CX series. 8 inch, 10 inch and 12 inch models.
I bought a pair of the SP-310CX 10 inch model for a good price (£120 each).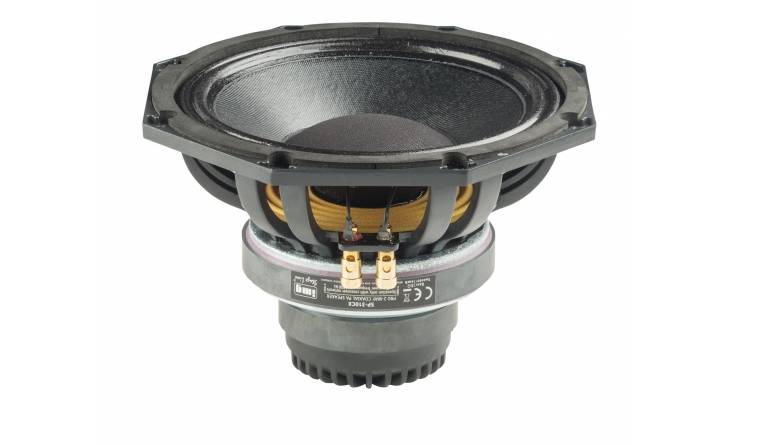 I spent a long time calculating the cabinet.
Based on the driver's specs it's been designed to work in a ported cabinet. Previously I have always gone for drivers that I know will work well in a sealed cabinet. So for this one, as well as calculating cabinet volume I had to learn a bit about ports and how to calculate them (and their displacement effects on cabinet volume). As long it's within my brain's limited capacity I love doing things like that, so that was fun.
I used 25mm MDF, screwed and glued. Pretty straight forward once dimensions had been calculated.
But the crossover for this was as much art as science.
The main driver for my trying this specific driver was because I like the sound of the compression driver in the Tannoy. It can operated down to 1000Hz. And to my ears it provides dynamics and clarity at that frequency better than any of the midrange cones I've tried. I wanted the Monacor dual concentric to do the same. The frequency curves for the driver show that this is possible.
Problem #1: Monacor recommend a crossover frequency of 1800Hz. However, I suspect that this may in part be for power handling reasons. The driver is rated up to 400 Watts; or rather the woofer part is rated 400 watts. The compression driver tweeter is rated to 100 watts. I imagine that 400 Watts overall would be fine with the crossover set at 1800Hz. Obviously reducing the crossover frequency means more of the power is routed to the compression driver. Possibly putting it at risk with the speaker fed with a total of 400 watts. This isn't a problem for me. My SECA is rated 20 watts. So theoretically the compression driver should be able to handle, from a power POV, the whole frequency range from that.
Problem #2: The frequency curve of the woofer is a little shaky 1000-2000Hz. I know from experience that graphs aren't everything, but I wanted to avoid the woofer in this range, and ignore Monacor's suggested crossover frequency.
Problem #3: The frequency curve of the compression driver is still rising at 1000Hz. It only has about 4dB to climb, but this was troubling, given my plan.
I considered building a Butterworth crossover, as this results in a 3dB lift at the crossover frequency. But in the end decided to go for a Linkwitz-Riley, which is flat, as this is the type I've built previously.
I should have been more adventurous.
With the build's first incarnation completed yesterday I was able to listen.
First thing to tweak is always the attenuation on the tweeter. Once the physical crossover is in place I can do this digitally using a digital high-shelf in JRiver, set at the crossover frequency. -15.1dB sounded good.
I had been most worried about the bass. This is the first ported type I've constructed. So far all good there. In fact I've been genuinely and pleasantly surprised. From the limited listening to date bass is impactful and tuneful. A good amount of air moving through the port. Really pleased with that. The port was a design complication that would have been easy for me to get wrong.
But, as my worries predicted, there is definitely an issue with a slight lack of output around 1000Hz. I can correct it digitally, and the speakers sound great. But obviously I want the speakers to sound great in their own right.
So it's back to the drawing board with the crossover. I've ordered the capacitors and inductors for a Butterworth crossover to give me that 3dB lift at the crossover frequency where the problem happens to be. The availble ratings for capacitors and inductors mean the crossover will actually be around 930Hz. Which I think, based on late night calculations and listening, will be OK. If not, then Plan C will be to raise the crossover closer to 2000Hz.
Once I get things as good as I can, I'll finish them with some sort of covering.
Anyway. I'm enjoying this one. :-)