Take 2 systems into the shower...?
I recently posted that I've picked up a pair of large Goodmans Goodwood speakers, after reading Alan and Sovereign's musings on the (even) larger Magisters.
I used them with my NVA P90SA > TSS mk3 for a few days and enjoyed their musical bassiness. However, they're not as precise/accurate as my Cubes, so they were never going to be a replacement. But then I thought, why should the 2 pairs of speakers be alternatives...? I wanted to try them together...
The Goodwoods came as part of a system, but the bundled 1970s receiver though charming, was a bit rubbish. So, I was on the lookout for alternative amplification. I like NVA so looked out for some cheapish integrated. Well once again, Alan to the rescue. A friend of Mr. Brown was selling an AP30. We came to an agreement on price and it arrived today...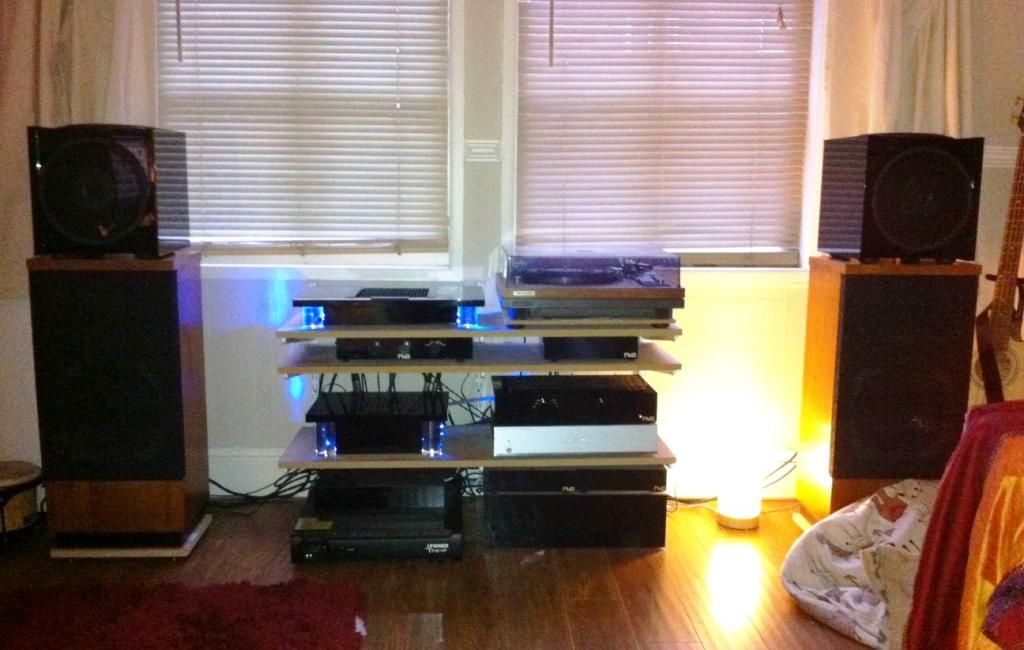 Things are certainly...fun...
Not a setup for late night listening.
Tbh the Cubes are not bass-shy, but you can't beat a full 12 inches... With the 2 parallel systems now working well together, I'm still not quite sure what's going on - it is an interesting combination. With the Cubes 'leading' the performance the Goodmans can be gently brought up into the mix to provide some definite bass slam, but I'm still playing around with levels to get the best balance.
A couple of tweaks I've had to bring to the party...
With the Cubes playing on their own, sitting on top of the Goodmans the sound was worse than when on their speaker stands. some clarity was lost. I wondered whether this was because the big Goodmans cabinets may be resonating (or something). I dug out 8 foculpods from by bits and bobs box and stuck them under the Cubes and..bingo...they were sounding better than ever. (You can just make out the pods on the pictures.)
Also, the Goodmans sit on rounded feet which cannot be adjusted. Unfortunately my floor is somewhat uneven and the big boys were rocking all over the place. So I built a couple of spiked MDF plinths that I could level off for the stack to sit on. Again you can just make out these in the pic.
Will post again when I've done some proper listening.